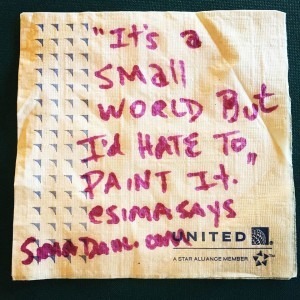 It's a small world! @simasays #cocktailnapkinquote #personalbrands #swayfactor
Click To Tweet
You can't make this stuff up.
Last week I had the privilege of giving back-to-back talks on personal branding at the University of Richmond. One of the administrators heard me give a presentation to the Richmond chapter of the American Marketing Association earlier in the year and hired me to speak to the MBA students and alums one night, and her undergraduate students the next.
I arrived on campus, set up my laptop, then got busy shaking hands and meeting people as I always do. After introducing myself to a faculty member named Debbie, she asked me if I knew Tracy H.
The History
Well I absolutely know Tracy but it took me a minute to connect the dots – it was so out of left field! You see – now stay with me – I met Tracy through Stephen. Back in the day, Stephen and I did some cycling together. I met Stephen through my good friend and fellow cyclist Jin. And Jin… well she used to date Bryan, who I hired to work for me in 2003! No that's not a typo. Two thousand & THREE.
The Rest of the Story
As it turns out Debbie and Tracy went to school together and while they now live on opposite ends of the country, they are connected on Facebook. Debbie had recently seen the paperwork requesting the auditorium for my presentation… had seen my name cross her desk… and just by chance saw Tracy "like" a Facebook post of mine.
Coincidence? Sure it was. But these "coincidences" are occurring at a far greater frequency than ever before. And they are POWERFUL.
When you can reach the people you want through the people you already know, the world is your oyster. If I can walk into a room full of strangers half-way across the country and trace a connection back to someone I hired in 2003, well just imagine who I could meet if I was intentional about it.
It's a Small World
My dad always used to say "it's a small world but I'd hate to paint it." And it always cracked me up. But the power of your network is no laughing matter. The ability to sway people and influence outcomes because you are known, liked and trusted… because you are intentionally visible in the social stream… that's nothing short of magic.