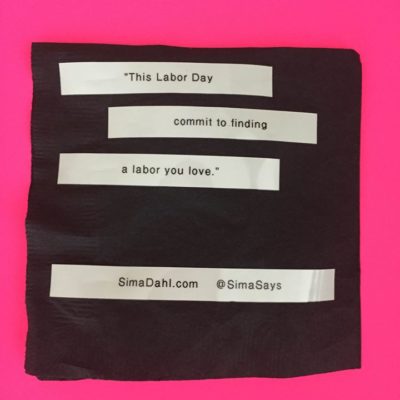 Have you found a labor to love? @simasays #cocktailnapkinquote#personalbrands#swayfactor
Click To Tweet
It's finally here – Labor Day – the day I promised to share some REALLY BIG NEWS for job seekers and career climbers everywhere. My labor of love. I'm so excited!
Why? Because not a week goes by that someone doesn't ask for my advice on their Personal Brand, my opinion of their LinkedIn profile, for tips on Informational Interviewing, or a sanity-check on Social Networking for their job search. And I hate to say no. I really do – but I hardly have enough time to practice my keynotes, finish my book, create new training courses and grow my business. So I decided to finally do something about it.
My Labor of Love
So that I never have to say no again, I'm hosting a day-long online training program called Your Job Search Goes Social on October 20th to share what I know about Personal Branding & Social Networking for your career. October 20th is MY birthday, but this is my gift TO YOU… a day jam-packed with actionable insights to help you chase your dream job.
Remember that survey I posted a few weeks back? Well more than 150 job seekers took it and told me EXACTLY what they wanted to know… so this training program is not only FOR you, it's designed BY you too!
You asked so many questions that I actually had to break it down into four separate programs:
1. Personal Branding & Your Elevator Pitch: 10am -11am Central
2. LinkedIn Profile Optimization & Your Digital Footprint: 11:30 – 12:30 Central
3. Networking with Confidence & The Art of the Informational Interview: 1:00 – 2:00 Central
4. Rapid Fire FAQ – 1 hour answering the questions I'm ALWAYS asked: 2:30 – 3:30 Central
Another Gift for You
BONUS GIFT! After all four of the live, video-enhanced training programs have been delivered I'm going to host a No Holds Barred , 2-hour live discussion with other career experts at https://blab.im/SimaSays to keep the conversation going.
(New to Blab? Almost everybody is – but you've got plenty of time to tinker before we go live… and this isn't called Your Job Search Goes Social for nothing!)
Now I'm sure you're wondering how much this deep-dive training program will set you back. Well it wouldn't be a gift if I didn't offer it at ridiculously deeply discounted rates now would it?
To celebrate the program launch, I'm offering you CRAZY discounts until October 20th. After that, the program will be available in my eStore but the price will be considerably higher.
Busy that day? Not a problem. Everything, and I mean EVERYTHING, (even the Blab!) is being recorded and will be available for unlimited playback for two full weeks! If you can't join me live on October 20th you'll want to go ahead and register anyway, while the discount is in effect, so you can access the recorded training videos later.
>> You: Sima, enough with the hype – how much does it cost?
>> Me: I'm so glad you asked!
I'm offering four types of tickets to accommodate as many people as possible, including a very special ticket exclusively for those of you between jobs that is absolutely 100% FREE.
Underemployed or Unemployed? It's Free!
Yep, you read that right. Look, I've been there myself, unemployed, frustrated and low on funds. And I've been a hiring manager and even recruited a few candidates for some of my clients too. That's precisely how I accumulated all these job search insights in the first place, and I'm just dying to share them with you!
And as ridiculous as it may seem in this day and age – I'm using the Honor system. Free tickets are intended for those who are out of work or otherwise cannot afford to participate in the program. Enough said.
For those who are able to pay, the deeply discounted ticket price will be just $47. Remember, my private coaching packaging start at four figures, so this is a complete steal!
Will everyone be honest? I hope so, but I can't worry about that – I've got too much work to do to get ready for the big day! I'm also offering a limited number of PREMIUM tickets too:
There will be exactly 20 Limited Edition GOLD Tickets available for $157. Why so high? This ticket includes a private 30-minute LinkedIn profile review with yours truly. These are held by phone or in person at The Metropolitan Club of Chicago and scheduled on a first come first served basis at a mutually agreeable time starting November 1st.
And there are will be just 10 Limited Edition PLATINUM Tickets for $277 that include a 60-minute private coaching session with me. We can discuss your job search, review your resume & cover letter, update your LinkedIn profile, explore your career aspirations or your personal brand – nothing is off topic! These are held by phone or in person at The Metropolitan Club of Chicago and scheduled on a first come first served basis at a mutually agreeable time starting November 1st.
Excited? Me too! Ready to register? Awesome!
Then mark your calendars for Monday, September 14th at 9am Central – that's when the Eventbrite Registration page goes live! What can you do in the meantime?
> Save the date October 20th on your calendar
> Tinker with Blab.im and follow me at /simasays; you'll need a Twitter handle
> Share this announcement with anyone in your network who should be there
Many of you know I've been talking about doing this for years. Some of you may even remember my early experiments with webinars, or the career blog I used to write. Well this is going to 1,000 times better and I'm so excited I can barely sit still. Between now and October 20th I'll be working hard to create the program for you. And I've got career coaches, human resource leaders, resume writers and other job search experts lined up to weigh in too. It's going to be awesome, and I do hope you'll join me.
I'll share the registration link a week from today. Until then, may you find a quiet moment this Labor Day to celebrate YOU – to acknowledge all that you have accomplished so far, and to dream big dreams about what you still want to do.