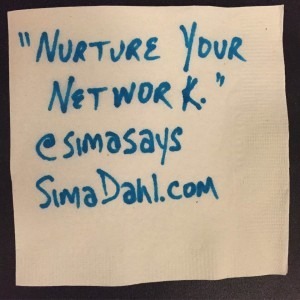 Nuture Your Network! @simasays #cocktailnapkinquote #personalbrands #swayfactor
Click To Tweet
Yesterday I had the honor of speaking to small business owners about social media at the Dex Media Marketing Success Seminar. In short, I had a ball!
But what I want to share with you today is how I came to be on that stage. I was referred by Barry Molt, a friend that I first connected with in 2001. At that time, he had just sold his business and was doing angel investing for technology start-ups. And me? Well back then, I was still a corporate marketer and as my luck would have it, I was working at a high-tech start-up that Barry advised.
Networking Know-How
Our respective careers took many turns but we always stayed in touch. We stayed connected here, on Facebook, and Twitter. We shared ideas, resources and referrals. Today he's an author of several top sellers, a media personality, an in-demand speaker, a trusted business advisor… but most importantly, he remains a cherished member of my network.
Personal Brand Champions
I talk to people about building Personal Brand Champions… people who know who you are, what you do, and what makes you special. People who willingly connect dots, open doors, and help you get more of what you want. I believe that we don't get anywhere alone… I believe what we give comes back to us tenfold.
A Kind Introduction
So when Barry introduced me to a standing-room only crowd last night, and said he had "the pleasure of being the President of my fan club," the pleasure was actually all mine.
What have you given to the members of your network lately?