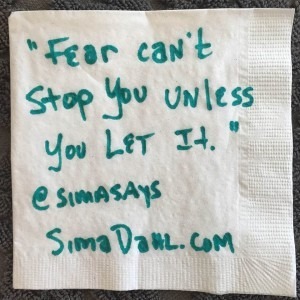 Yesterday I played hooky and spent the day riding roller coasters at Six Flags Great America. Or I should say "trying" as the weather did not cooperate and I actually only rode two. Fear didn't stop me and neither did the weather.
Some People Love Roller Coasters
Now some people love roller coasters and others, not so much. As it turns out no one in my inner circle is a fan. So what's a girl to do? I put a message out on Facebook inviting anyone in my network to join me and I'm delighted to say that I spent an alternately sunny & rainy day with two lovely women who I now know infinitely better.
My point? I'm not afraid of roller coasters, never have been. But I was afraid of admitting I had no one to go with… Of going with strangers… Of asking a friend to borrow his car… Or I would have gone last year. And the year before that.
Conquer Your Fears
Had I let those fears stop me again this year, I would not have sat belted in an impossibly small seat while Batman The Ride climbed a 10-story lift, swooped 180-degrees and then completed a 360-degree loop at 55 mph. I would not have not have ridden the 3,000 feet of twisted steel known as X Flight up a 120-foot hill and plunged once again at a heart-pounding 55mph while rotating 180 degrees, screaming and laughing and loving every minute of it.
Roller coasters scare you? NOT riding them ever again scares me. My fears are mine, yours are yours. They are all real but they are only as powerful as we permit.
My fear list is long, but I'm working on it. And while I have no idea what's on your list, I know that you're a badass. And when you believe that, your list will get shorter too.