I was going to write this post about my beloved Chicago Blackhawks. The napkin, battered as it may be, comes from one of the winning games I was fortunate enough to see from a skybox at the United Center.
Dream Bigger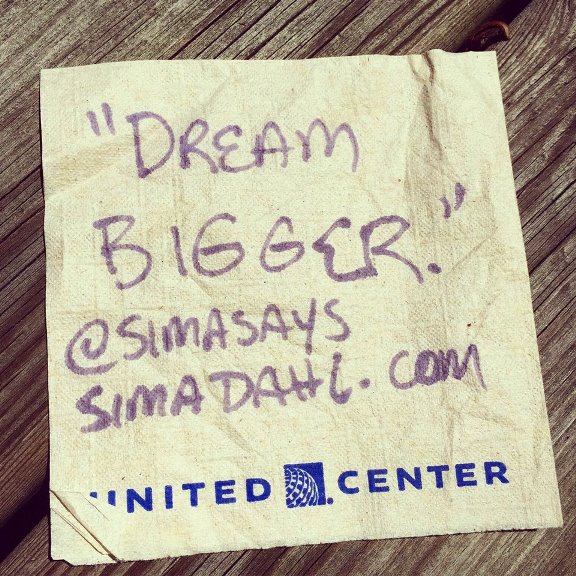 Dare to dream big! #cocktailnapkinquote #personalbrands #swayfactor
Click To Tweet
But this morning I'm drawn once again to the Misty Copeland story. I'm sure you've heard it by now, but I just can't get enough of it. Living in a motel room, studying dance at a Boys & Girls Club, beginning her ballet career at the unconventional age of 13. Being told time and time again she didn't have a future… And today she is the first African-American female principal dancer at the American Ballet Theatre in its 75-year history.
She admits to having moments of self-doubt, of wanting to quit, yet she pressed on.
Find Your Vision
When I started my business I didn't have a vision – I was focused on survival. Not very inspiring is it? And so last year when I adopted the self-proclaimed moniker "America's Personal Branding Champion" it was as much a notice to myself as it was to the world that I had found my passion. That at long-last I had a clear vision of who I wanted to be… that I accepted my potential was only as limited as my thinking, and I was hell-bent on achieving big things.
Be Persistent and Passionate
I meet too many people mid-career who have given up on pursuing their dreams. I dare you to not give up. I dare you to accept that anything is possible. I double-dog dare you to re-imagine the way your future plays out.
When you let go of the outcome but focus on the next step… when you you remain open to opportunity… when you dare to dream bigger, amazing things happen.
Passion + Persistence + Personal Branding = Pay Off