This past weekend I was blessed to meet a dear friend of 20 years who I seldom see for lunch at the Drake. Bellini in hand my friend turned to me and asked, "Did you know I used to work here?" I laughed because it was classic Carol. I always tell people I've had more jobs than boyfriends, and she's right there with me.
What Do You Want To Be?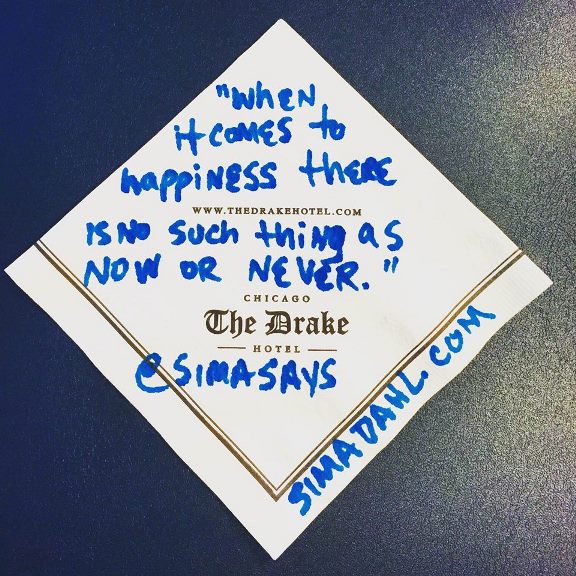 When it comes to happiness, there is no such thing as now or never. #cocktailnapkinquote #personalbrands #swayfactor
Click To Tweet
Our Career Path
We met working for a high tech start-up – me in marketing, she in project management. I stayed with marketing for many years, but Carol's career path curved a bit more – it seemed she was always trying new things.

We talked about her passion for interior design. For antiques. For real estate. No surprise that she currently has a business venture for all three! When I asked her what she'd like to tackle next she said, "You know what I really want to do? I want to flip a house." And knowing Carol, I've no doubt she'll do it.
Happiness is a Journey
Which brings me to my point… Happiness is a journey. Why regret trying something new only to find out you don't like it? That's a win! Why beat yourself up when you discover that after a decade in one field, you're quite interested in another? Go for it! The age old question surfaces; What do you want to be when you grow up?
We all face forks in the road, and we make the best choice we can at the time. Don't waste your energy regretting the decisions you made, but invest it in pointing your compass toward your next adventure. Be it a full-time placement, a part-time position, a side project, or a volunteer post, find a way to do more of what you love.
What if it's in the pursuit of our dreams that we find the greatest joy? Think about it.